eCargo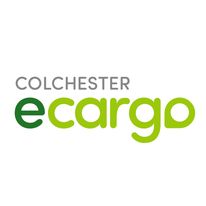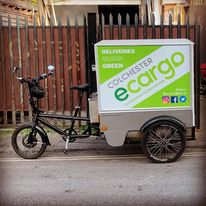 eCargo are Colchester's green, clean, eco-friendly local 'final mile' delivery service, using a range of commercial eCargo Bikes, trikes and special trailers to deliver all kinds of things all across Colchester.
Their bikes are pedal powered with battery powered electric assisted motors. No petrol or diesel = no nasty emissions. Their bikes and trikes are smaller than vans and cars and so help reduce traffic congestion, a number of their bikes can use established shared/cycle paths across the city.
They are trying to encourage as many businesses, organisations and individuals as possible to think about how they can reduce the delivery journeys they make themselves or they cause to be made, by ordering stuff that rely on cars and vans.
So, by providing their low cost, efficient and professional green, clean, eco-friendly delivery service, they are offering a credible alternative.
The delivery service area covers a 6 mile radius of Colchester High Street, so out to Wivenhoe, Elmstead, Rowhedge, Fingringhoe, one direction, then out to Stanway/Tollgate the other direction, and West Bergholt, then up to Highwoods and the Northern Approach areas up as far as Great Horkesley, and in the other direction down South of the city, out to Abberton/Layer.
eCargo have been at this for over 2 years now and are steadily growing. They have a fleet of bikes and trikes, different shapes and sizes for different types of delivery jobs and they have an awesome team of happy, positive and super-helpful Cargo Bike Pilots and support staff who are all committed to cycling, reducing congestion, promoting clean air and improving the environment.
We here at Colchester Brewery, are joining forces with Colchester eCargo to provide a delivery service for our smaller orders so our big vans are not adding to the city pollution and traffic any more than we have to.
If you live in Colchester and place an order that is below our minimum order value of £34.50, you can have it delivered by eCargo bikes (delivery charge applies). This way, you get the fresh cask beer that you've been craving and help the environment at the same time.
Guilt free drinking!
These are the postcodes that Colchester eCargo Bikes deliver to:
CO1 1 CO2 9 CO4 0 CO6 1
CO1 2 CO3 0 CO4 3 CO6 3
CO1 9 CO3 3 CO4 5 CO6 4
CO2 0 CO3 4 CO4 6 CO7 7
CO2 7 CO3 8 CO4 9 CO7 9
CO2 8 CO3 9 CO5 7